What was childhood like in the 90s? I remember Kogel-Mogel and the Wigry 3 bike
Monika Marszał wrote a book that is a sentimental journey through time. The author describes her childhood spent in Poland in the early 1990s.

The taste of all her mother's dishes and the kogla-mogla prepared by her grandmother are still vivid in her memory

"At the very beginning of primary school, of course, I wore the obligatory navy blue uniform with a collar," she recalls

— To get a brand new notebook for running "Golden Thoughts", you had to try very hard… – he adds
Anna Frydrychewicz, Onet: Do you think that we, kids born in the late 70s? and in the 1980s it was easier than for children today?
Monika Marszał: I would prefer to avoid such comparisons and assessments. As I wrote in the introduction to my book, it is a diary of a child raised in those years and a reflection of my memory. Therefore, perhaps the facts were not presented chronologically? Maybe some fragments of the book make the reader feel like it is embellishing and idealizing that period? My goal, however, was not to judge, but to stop for a moment and return to my own memories. I wanted such an impulse for the reader who would recreate his own childhood. The book is intentionally short, readable in one or two afternoons. This is a collection of columns written to help you sit down with coffee in your hand and, in this crazy, fast life, return to your sentiments and stop time for a moment. I don't want to judge today's generations, especially since it would be from a parent's perspective, and we ourselves didn't like being told: "Because I was your age…".
We were children in difficult times…
Each period is different and more or less unique to those who grew up in it. We didn't have the Internet or a photocopier, so we copied notes from a friend. There was no computer, so you often wrote first "dirty" and only then in a notebook. To write a biography of a writer needed for a "Pole" lesson, you got on Wigry 3 and went to your friend's to write down information from the PWN encyclopedia. I don't know if it was harder for us. We didn't see that it could be otherwise.
Do you remember your typical morning when you went to school?
My mother always woke me and my younger sisters up for school at 7:15. Because we probably didn't hear the loud cuckoo clock hanging in our hall. After ordering me to eat the milk soup I hated, my mother handed me cheese sandwiches wrapped in gray paper.
And who were you sitting on the bench with?
I sat with different children, depending on where the teacher seated us. One of them allowed me to take a seat next to my best friend, and the other one moved "for talking" to the first bench. I remember that the history teacher liked the method of seating students alternately: girl, boy. It was different.
Do you still remember those gray and gray three-line notebooks?
Of course! In primary school, they were a valuable commodity and our parents counted our cards in them. To get a brand new notebook for running "Golden Thoughts", you had to try very hard… This 60-page notebook was a dream. There were also clean notebooks and a ruler was used. These colorful ones remind me of the beginning of high school. I remembered covers with "The Flintstones" and "Topcat" or various bands.
You mentioned the hated milk soup. What was your favorite flavor from childhood?
The taste of all my mother's dishes. I loved her pureed dumplings, dumplings with fruit, mashed potatoes, wafer dumplings, and homemade pizza. Donuts hanging around the neck, various cakes, crackling cookies, puffed rice cones or a chocolate block. Also my grandmother's unforgettable kogel-mogel and her cakes baked in the prodj. Today, I even glorify those flavors. Although the dishes recreated based on recipes from the book "Kitchen full of miracles" were also nice.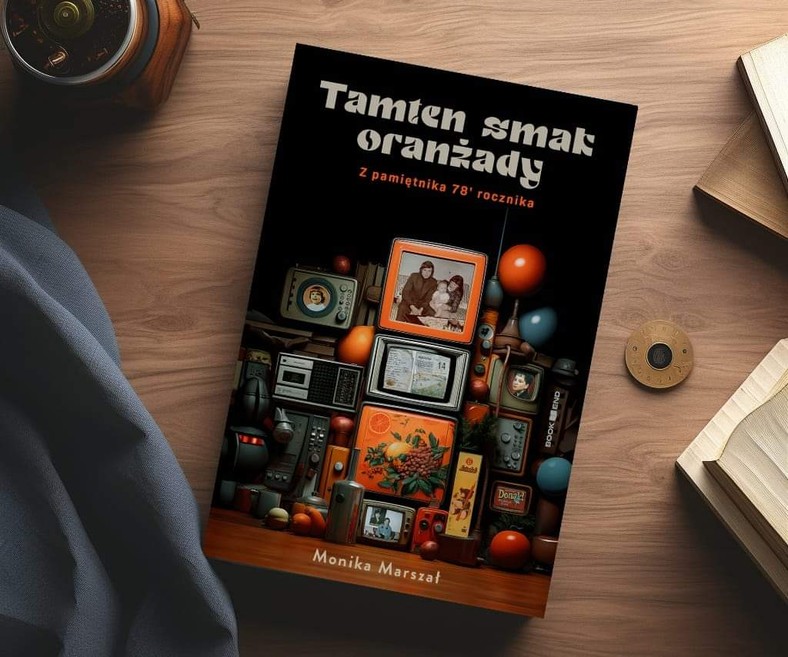 Author: Paweł Jaskólski / arch. heroines
"The books are a diary of a child raised in those years and a reflection of my memory."

What did you wear to school in elementary school and what did you wear in high school?
At the very beginning of primary school, I wore the obligatory navy blue uniform with a collar. Later, various fashions prevailed at school. As the oldest sibling, I had new clothes or "bought" things from my cousin. My sisters then proudly wore them after me. I remember those clacking clogs and "plastics" with pebbles in them and in which you pretended to be an adult.
And, of course, the immortal "Relaxy" boots and "Pyramidy" pants with a camel. Additionally, a padded jacket with detachable sleeves and various colors of sets with a kangaroo print. The pink ones were fashionable, but I got the white one and I was a bit disappointed. In high school, people wore elastic or bell-bottom pants, the legs of which froze in the cold. A katana was worn under a winter jacket, and wearing a hat was considered "colostrum". After all, you had to show your hair smeared with brilliantine or a new "Rachel Green" hairstyle. And we smelled of pink "Limara", "Impulse" or "Scream with an exclamation point".
Have you watched "Teleranek" or "5-10-15"?
Basically both of these programs. But sometimes the crowing of a rooster on a Sunday morning didn't encourage me to get out of bed. I preferred the "5-10-15" program, especially the block for 10-year-olds. Someone who was 15 years old then and watched "Szortpress" or "Omnibus" seemed very old to me [śmiech].
There was also a music block in "5-10-15″… Do you remember what you were listening to then? Papa Dance was fashionable…
I didn't listen to Papa Dance, but I really liked the band New Kids On The Block because I was in love with Joey. I used plasticine to glue his posters from the "Popcorn" magazine to the cabinets or clumsily cover the painting with Chełmoński's storks…
Did you go out to the yard to play?
Sure. I loved playing on the beater and playing rubber bands. These stages in order, i.e. "ankles, knees, waist…". I liked playing football with the old and new rules, playing trick-or-treating or our famous counting games. Do you remember? "One, two, three…"
I remember well. And I still remember holidays and vacations with my parents, where we went with our "baby"…
For me, holidays in the 1990s meant picking strawberries and helping my parents. Of course, there were also colonies that I described in my book. I didn't go on holiday, I spent my holidays with my grandparents, which was wonderful. I also devoted one of the fragments in the book to this memory. I fondly remember sitting at the bus stop or in the stairwell. It wouldn't rank well today, but at the time it was the perfect meeting place for us. These long conversations, playing "King Stop", and our parents' fear that "we will get a wolf".
What do you miss most in today's world and what disappeared at the end of the 1990s?
What I miss most from that time is the interpersonal contacts. This spontaneity, not meeting for coffee with a calendar in hand. Mutual trust and help instead of competition. And of course, loved ones who have passed away. Because they are the ones we miss the most and we connect the events of the past with them. Hence our sentiments. I have the impression that time seemed to pass slower in the past. I remember the long wait for Christmas and holidays. Nowadays, people are always in a hurry. I wouldn't want to live in those years again, but in hindsight I miss the unasked questions and listening to the end of all my mother's stories, which seemed boring to me at the time.
Monika's book "That taste of orangeade, from the diary of the 1978s" is available in the Bookend bookstore, in Empik stores and most stationary and online bookstores in Poland.