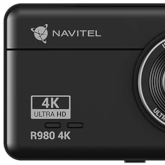 4K recordings are becoming more and more common among virtually all video recording devices. It is also worth noting that the famous 4K is becoming more and more accessible to drivers who want to record their journeys and at the same time protect themselves against various unpleasant situations on the road. Until recently, only top video recorders offered recordings in this resolution, and today it turns out that a camera for just a few hundred can do it. A perfect example of such a model is the R980 4K, one of the latest proposals from Navitel, popular in Poland. Most importantly, the whole thing also has many other advantages.
Author: Piotr Piwowarczyk
Today, Navitel's offer includes many interesting car cameras, although it cannot be denied that the company tries to provide mainly low- and medium-budget video recorders for those who are not very demanding. On the other hand, these products can be called completely sufficient for ordinary consumers – they not only offer acceptable video quality, but are easy to use, include basic parking modes and several other functions also known from cameras from other manufacturers. We are therefore pleased that this time we have also thought about those drivers who care about high-resolution recordings. Despite all this, however, it cannot be ignored that this is a product for thrifty people – after all, the whole thing was priced at only PLN 499. It's time to take a closer look at it.
Navitel R980 4K is a quite advanced video recorder with a Sony IMX415 sensor, priced at PLN 499. It would probably not be an exaggeration to say that this is currently the most interesting camera offered by this manufacturer.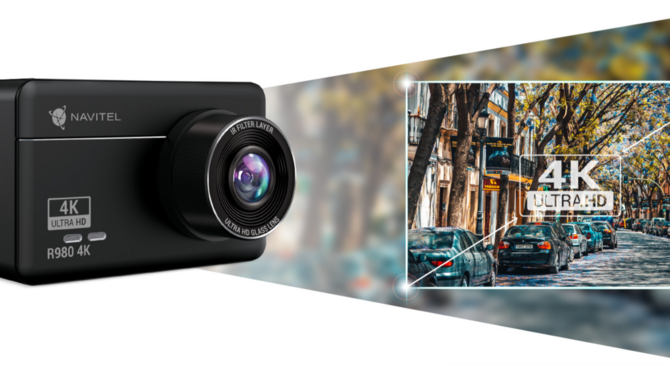 Navitel R980 4K is a video recorder equipped with a Sony IMX415 sensor that allows you to record video in 4K resolution (3840x2160p) at 30 frames per second. The manufacturer boasts that the product has a 7-layer glass lens with a built-in infrared filter and a 140° field of view. The camera has a 3-inch IPS touch screen with a resolution of 854×480 pixels. There were Wi-Fi and GPS modules on board. The former is used to wirelessly connect the camera to a smartphone, while GPS will not only indicate the driver's current speed and position, but also warn about speed cameras. The video recorder has a supercapacitor instead of a classic battery, so the whole thing should withstand extreme temperature fluctuations in the car. It is also worth mentioning the available parking modes, USB-C power connector and memory card support up to 128 GB. The product was priced at PLN 499 and it will probably not be an exaggeration to write that it is currently the most interesting camera in Navitel's offer.
| | | |
| --- | --- | --- |
| | Navitel R980 4K | Mio MiVue C580 |
| Screen size | 3″ | 2″ |
| Recording resolution | 4K@30fps / 1440p@30fps / 1080p@30fps | 1080p@60fps / 1080p@30fps |
| Optical sensor | Sony IMX415 | Sony STARVIS CMOS |
| Iris | unknown | f/1.8 |
| Recording format | .TS | .MP4 (H.264) |
| HDR | NO | Yes |
| Optics viewing angle | 140° | 140° |
| Audio recording | Yes | Yes |
| Built-in GPS | Yes | Yes |
| WiFi | Yes | Yes |
| G-force sensor | Yes | Yes |
| Memory card support | Yes, capacity up to 128 GB supported | Yes, capacity up to 256 GB supported |
| Battery capacity | 3.3F supercapacitor | 240 mAh |
| Dimensions (mm) | ? | 54.6 x 61 x 33.7 |
| Weight (g) | ? | 69 |
| Warning against speed cameras | Yes | Yes |
| Warning against sectional speed measurement | Yes | Yes |
| Parking mode | Yes, available using Navitel Smart Box Max | Yes, passive |
| Event recording | Yes | Yes |
| Photo mode | Yes, with GPS coordinates, ability to take photos while recording | Yes, with GPS coordinates, ability to take photos while recording |
| Power socket | USB-C | mini USB |
| Other | Automatic start, motion sensor, software operation | Automatic start, motion sensor, indefinite update of speed camera databases, speeding alert, support for MiVue A30/A50 rear cameras |
| Price | PLN 499 | 499 |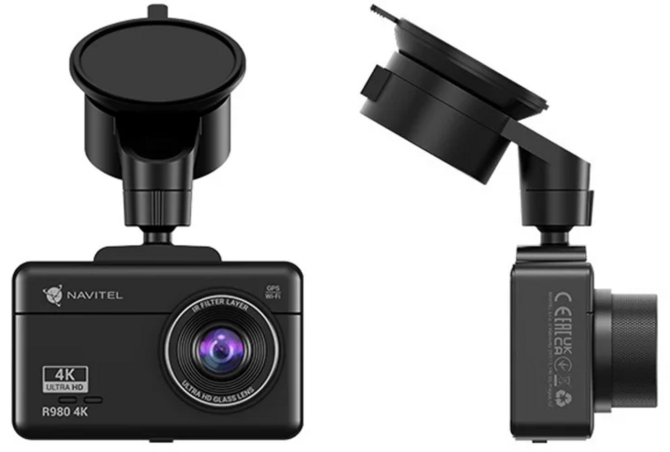 The contents of the box with the video recorder make quite an impression, because inside there is not only the camera itself with a charger (5V / 2.5A) and documentation, but also a magnetic holder with a suction cup, electrostatic foil, a microfiber cloth, a USB microSD card reader, as well as a gift in the form of a navigation voucher from Navitel. Considering the relatively attractive price of the entire set, you can be satisfied with the available accessories, although, of course, out of reviewer's obligation, I would like to point out that the charger has a non-detachable cable – this is a minuscule minus.
The camera itself has a simple, rectangular housing made of good quality plastic. On the front there is only a lens, and the back is almost entirely covered by a 3-inch touchscreen. At the bottom of the video recorder there is a loudspeaker and a physical power button, while at the top there are connectors for the magnetic holder and a microSD card slot. So as you can see, there is nothing complicated here. There is not even a USB-C port on board – it is located only in the magnetic holder and this is where the cable from the charger included in the set should be led.
Installing this camera is an extremely simple and even pleasant process. Much of this is due to the above-mentioned suction cup holder, which can be placed on the glass in the first place. Importantly, the camera added later can be tilted at almost any angle, although it is possible that such a system slightly affects the stabilization of the recordings (we will talk more about this on the next page). The first launch was a bit surprising for me. I admit that this is my first contact with a Navitel camera and I was a bit surprised when, after turning the key, the video recorder system immediately took me to the card format and camera preview menu. As it turns out, you can only change the language or time later. Fortunately, it is not too complicated, because the main menu of the camera is very simple and clear. The user therefore has no chance of getting lost in the settings.
The camera only offers three recording options. 4K (2160p), 1440p and 1080p resolutions are available. There is no HDR or higher frame rate setting for any mode – the user is therefore "condemned" to 30 FPS video. In addition, there are standard options available, e.g. G-sensor sensitivity, recording length, screen saver and tags. It is also worth mentioning the GPS options that take into account information about speed cameras, as well as the available parking modes (available only after connecting Smart Box Max), where you can choose operation in timelapse mode or activation after detecting a physical impact.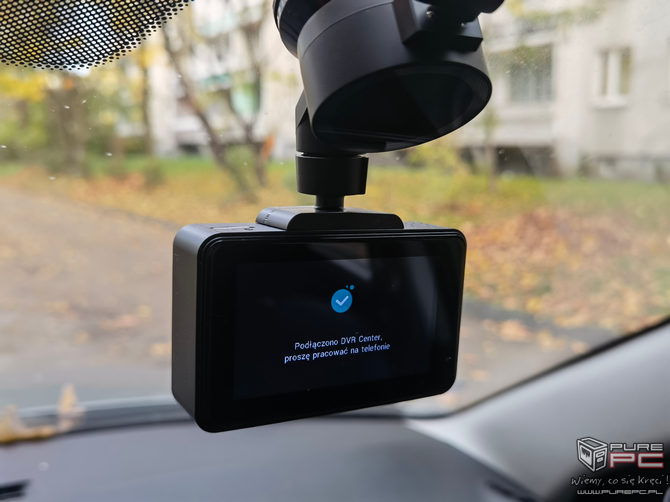 Let's also briefly discuss connectivity to the smartphone application via Wi-Fi. For this purpose, it is necessary to download the Navitel DVR Center program. The wireless module should be automatically turned on, so all you need to do is select the camera on your phone and enter the default password. The application is easy to use and there are no incorrectly translated texts. There are five main tabs available, four of which are used to view already recorded recordings or photos. Only in the Menu option you will find the current camera preview and video recorder settings. As you can see below, using the program in question we will be able to completely configure the model R980 4K. In addition, it is worth updating its software. During testing, the system detected the availability of firmware 1.3.5. Although unfortunately I did not receive any information about the new features introduced in this update, I would like to emphasize that the entire process was completely typical and trouble-free.