Fellow Travelers – the hottest romance series of the year [RECENZJA]
Can there be anything more beautiful than the feeling that unites a pair of lovers despite great adversities? Probably yes, but somehow it has been accepted that forbidden romances have been making audiences red hot for centuries. "Fellow Travelers" is about just such a relationship – only much more twisted and passionate than usual.
Fellow Travelers – what is the Showtime series about?
The action of the series, which is an adaptation of Thomas Mallon's novel of the same title – denoting people who sympathize with a given ideology, especially communist – spans several decades of American history. We start in 1986, when we meet Hawkins 'Hawk' Fuller (MattBomer, "White Collar"), celebrating another diplomat's professional success. Just look at the smile he gives to the company while standing next to his wife Lucy (Allison Williams, "Girls") to be considered one hundred percent fulfilled. At this point you can be sure that there is something hidden under this perfect surface. And actually. An unexpected visit from an old friend makes the hero catch up with his past, and we travel with him back in time.
We land more than thirty years earlier, when on election night for Senator Joseph McCarthy (Chris Bauer"True Blood") Hawk, a decorated war veteran and State Department employee, meets Tim Laughlin for the first time (Jonathan Bailey, "The Bridgertons"), a young idealist who wants to enter the world of Washington politics to do something good. You can immediately see that there is chemistry between these two, and it's not of the friendly kind. You don't have to wait long for it to turn into something concrete. The problem is that the circumstances for an affair between two men, especially those in high positions, are extremely unfavorable, because in the United States there is an era of hunting for "deviants".
This is where the actual plot of the series actually begins, which in eight episodes (I saw the entire pre-premiere) will present the forbidden relationship between two characters developing over thirty years. And all this against the background of a reality that is always hostile to them in a different way – from the trials and persecutions of the McCarthy era during the first years of their acquaintance, to the AIDS epidemic during Reagan's presidency, when they meet again after a long time.
Fellow Travelers – hot romance and dirty politics
Get used to this kind of dualism, because it is the plot foundation of "Fellow Travelers." This applies both to the two main timelines set in the 1950s and 1980s, but also to the leading threads. On the one hand, a love story, on the other hand, a historical one, which revolves around the social perception of homosexual people in particular eras.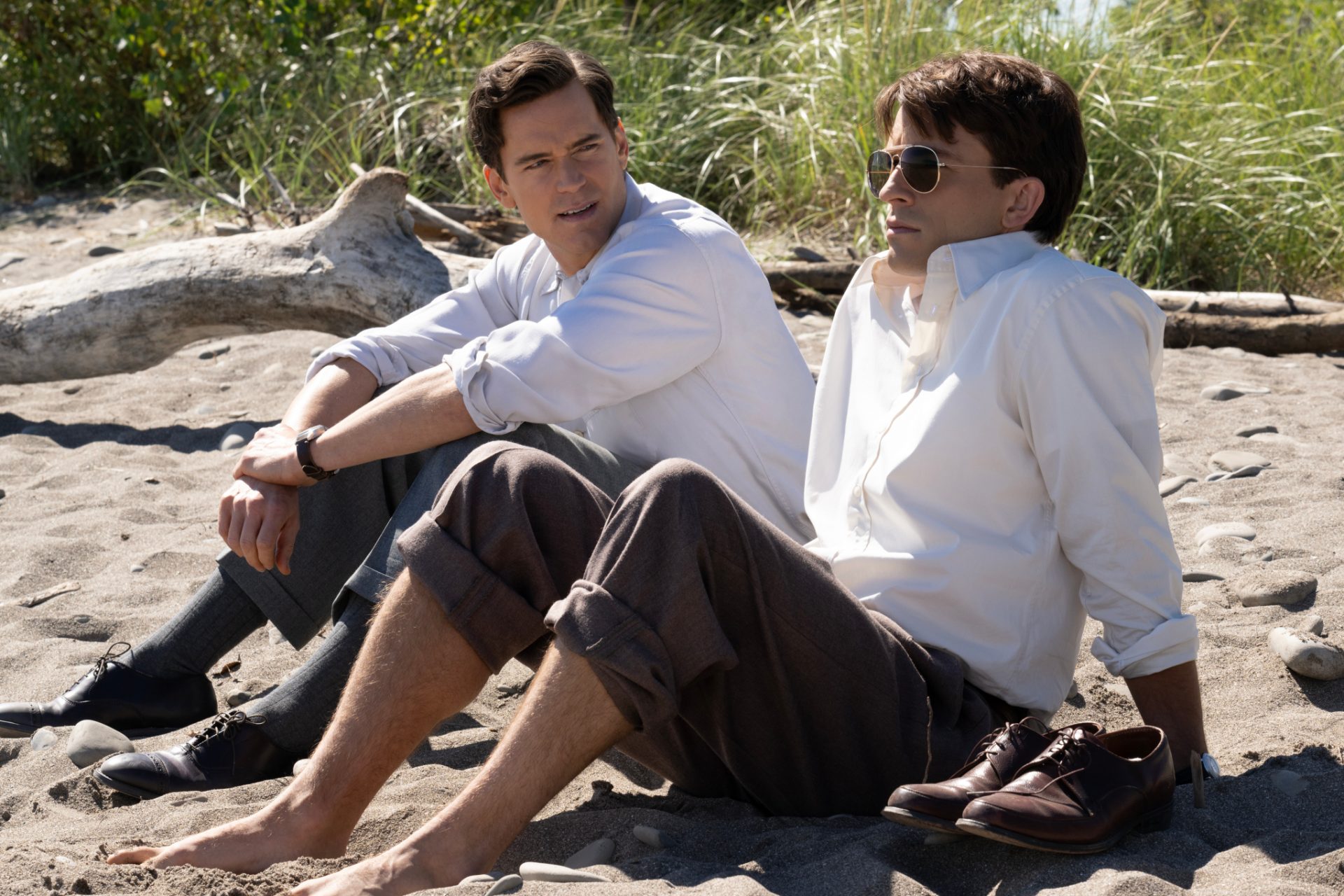 The creator of the series, which is the Oscar-nominated screenwriter of "Philadelphia" Ron Nyswaner, handles both quite skillfully, wrapping them in smaller stories of other characters. For example, the aforementioned Lucy and her relationship with Hawk, or the journalist Marcus (Jelani Alladin, "The Walking Dead: A New World") and his partner Frankie (Noah J. Ricketts, "American Gods"), in which the queer perspective collides with being black in racist America.
However, neither these threads nor the political intrigue related to the crusade of Joseph McCarthy and prosecutor Roy Cohn (Will Brill, "The Marvelous Mrs. Maisel") against communists and homosexuals employed in state institutions are crucial for the series. It is clear from the very beginning that the viewer's attention should be focused on the relationship between Hawk and Tim – everything else is only its framework, even if both characters are directly involved in other stories.
Fellow Travelers is a story of passion, love and lies
And there are, especially in the 1950s, when the intimacy between them is particularly dangerous, exposing them to public ostracism and loss of positions and social positions. We watch as they, forced to maneuver between passion and maintaining public appearances, simultaneously face their own conscience (Tim) and slowly, and in Hawk's case, very slowly, feelings coming to the fore.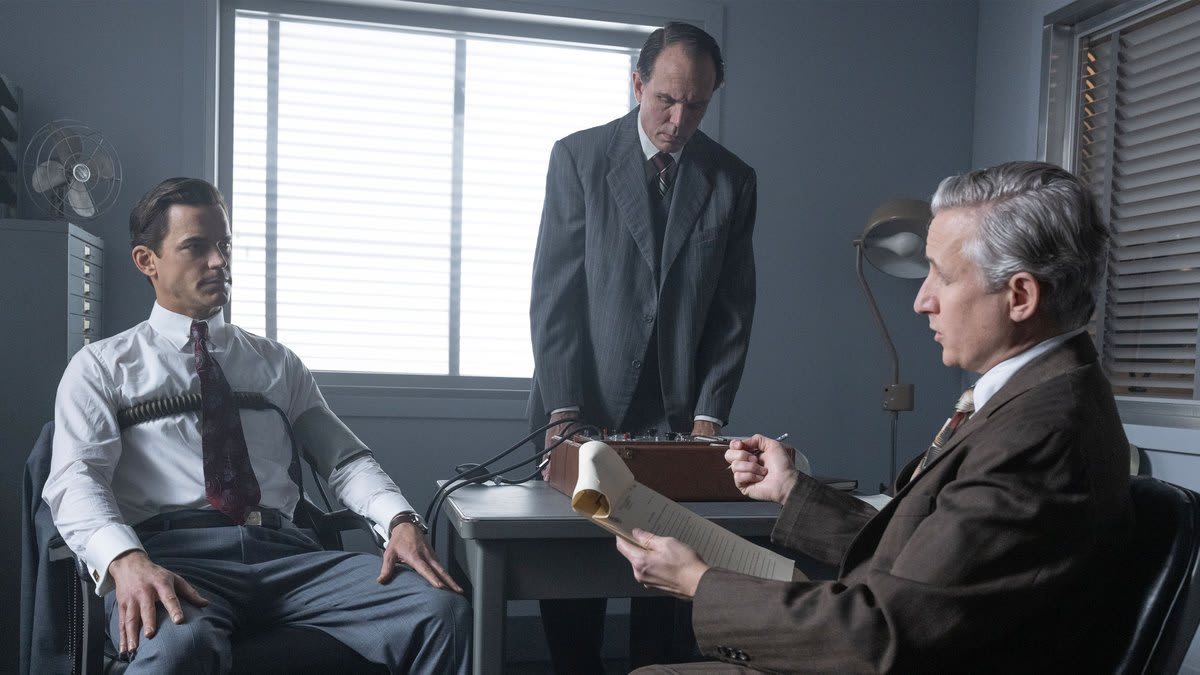 The more we delve into it, the more clearly we see that the turbulent relationship between these two is extremely complicated, without becoming easier over time. But just as calm comes after a storm, the conflicts and differences between the men lead to calm, seeming to strengthen the ultimately beautiful bond between them.
However, this also raises a problem. The more interesting Hawk and Tim's romance becomes, the more everything else suffers from it. At the forefront is a one-dimensional political thread, where the hypocrisy and cruelty of the McCarthy/Cohn duo is emphasized at every turn. Sure, it's more than likely that this image is close to reality. Here, however, it turns them into caricatured characters whose story, which continues throughout the season, becomes tiresome.
Fellow Travelers – a hot romance, but is it like a fairy tale?
Meanwhile, "Fellow Travelers" has much more interesting things to offer, starting, of course, with the main characters and their relationships. Yes, the physical ones too, because the series does not spare viewers bold, sometimes extremely intimate, sometimes even animalistic, erotic scenes. However, it does not end there. Oh no, there are a lot of feelings here, on both sides. Both in the case of Tim, who is sensitive and seeks emotional warmth, and in the case of the inaccessible Hawk.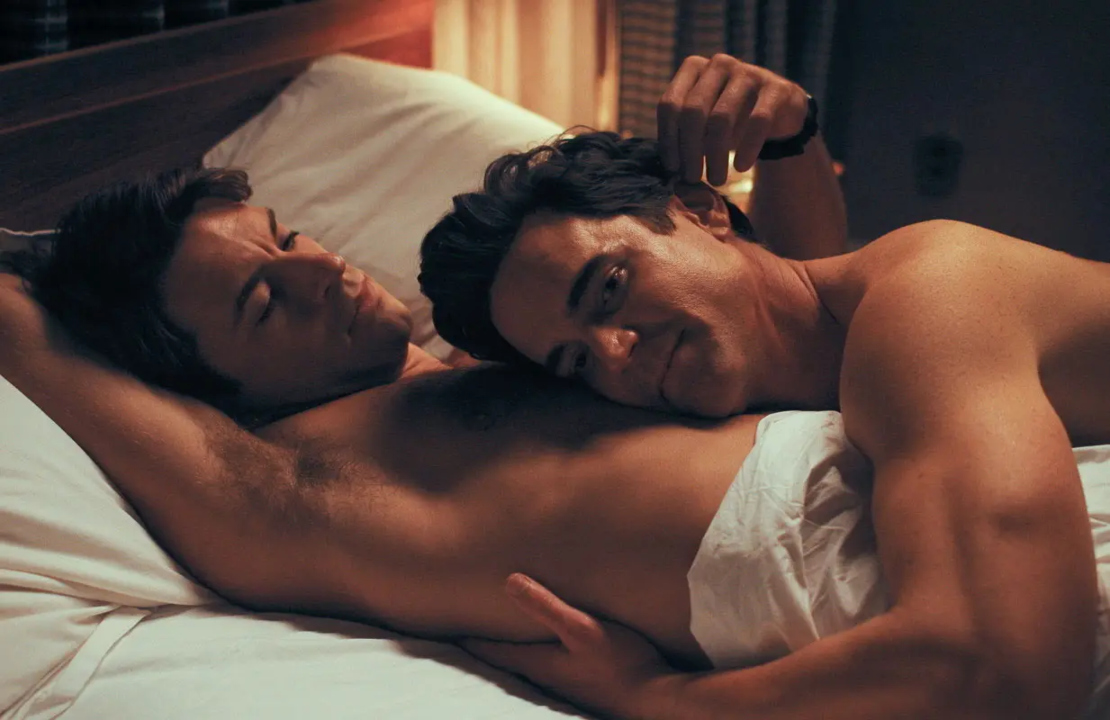 These differences between the characters, which from the outside seem absolutely irreconcilable, make following the development of their relationship fascinating from the first meeting, and then gaining even more colors and shades. After all, Hawk and Tim don't stand still. The problem is that while the first one goes further and further into lies, the second one goes in the opposite direction.
So how is it possible that no matter what happens and how far apart they are, their paths keep crossing? Contrary to appearances, it is not far-fetched, artificial or forced. In fact, subsequent separations and returns occur naturally, although of course they have their consequences as men's worlds and beliefs diverge more and more clearly. However, it is these discrepancies that make their relationship more than just a romance, and they evolve as characters.
Fellow Travelers is an amazing performance by a pair of actors
Making such a confusing relationship retain its authenticity is, of course, thanks not only to the script, but also, and perhaps above all, to the performers, who in this case were cast absolutely perfectly. What's more, not only do Matt Bomer and Jonathan Bailey perform their acting tasks perfectly, giving their characters a human dimension in completely different ways, but also together they can make the screen almost explode with lust and passion.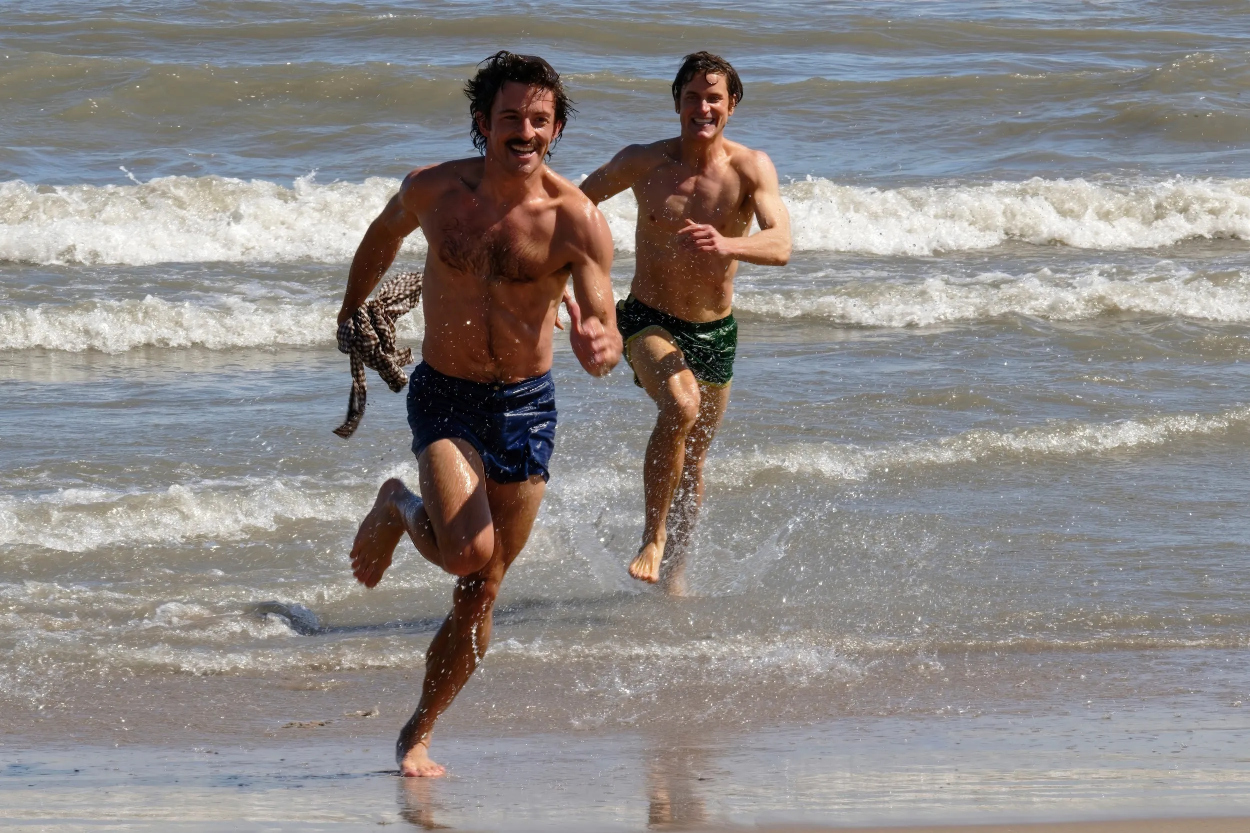 However, it does not end with sparks and visual effects in the form of heated male bodies, because Tim and Hawk are, first of all, extremely complex characters. The younger one is the beating heart of the series, initially captivating the viewer with his sweet naivety, innocence and charming confusion, and then becoming the personification of the doubts that torment the soul. Bailey is authentic both as a lover and as a wall-to-wall rookie, without making Tim an emotionally unstable puppet. He's just a guy who wants closeness, and unfortunately he meets this need in the worst way possible.
Hawk is his total opposite. Hiding behind a thick layer of lies and emotional detachment, she puts her partner through many tests, often treating him terribly. Adding to this his false image that he presents to the outside world and the fact that he is terrified of demystification makes him, on the one hand, a material for a racial psychopath, and, on the other hand, a hounded man who has learned to hide his pain deep inside so long ago that he no longer lets it go. doesn't even feel it. No, it does not justify the suffering caused to Tim or Lucy. But it allows us to understand where the barrier expressed on screen by Bomer's impeccable attitude comes from.
Fellow Travelers – is the SkyShowtime series worth watching?
All this, combined with the sensuality emanating from the screen, makes "Fellow Travelers" definitely worth reading, although it is not a series without flaws. There will be a lot of them, because when we lose sight of Hawk and Tim, the remaining elements of the plot do not work out so well.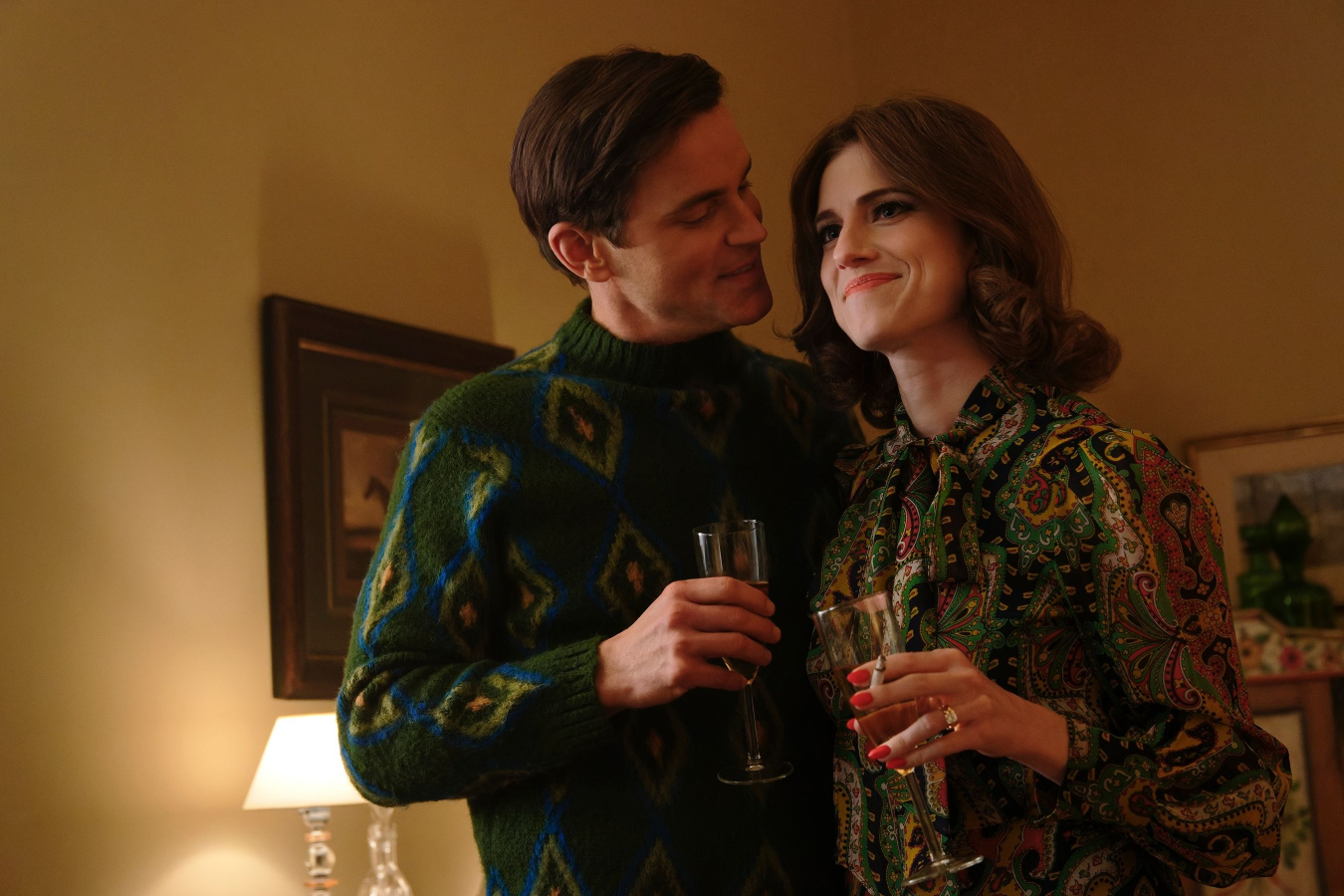 Long political thread. Unequal distribution of accents between individual decades. Second plan neglected. A shallow ticking off of the problems of the queer community. Yes, there is something to complain about. But all this really loses its meaning in the face of a multi-layered and at the same time one of the hottest romances that we have seen on the small screen in recent years.
Fellow Travelers – episodes every Sunday on SkyShowtime